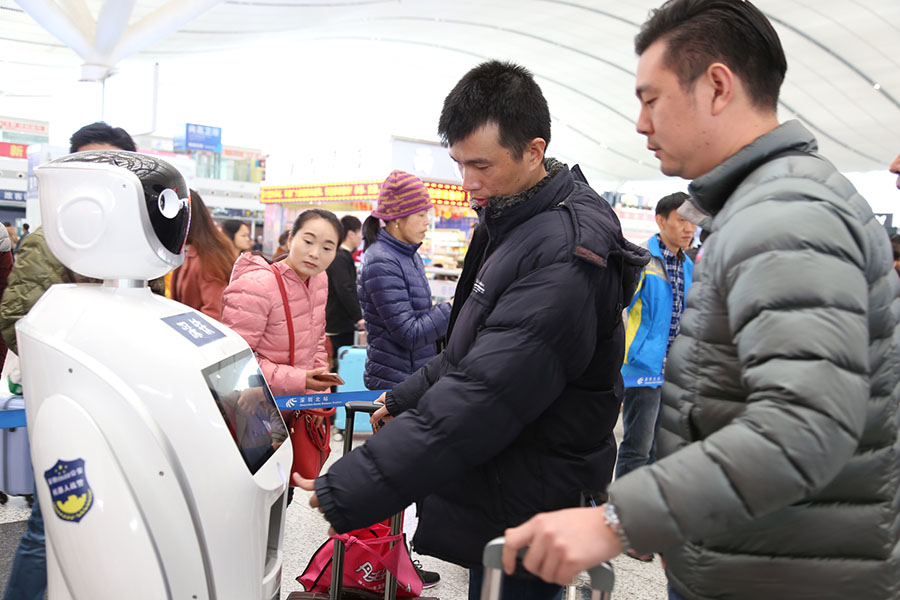 Passengers consult with a police robot at Shenzhen North Railway Station on Wednesday. CHAI HUA/CHINA DAILY
Local police on Wednesday activated 20 automated police robots, or "robocops" of different shapes and functions, at Shenzhen North Railway Station in Guangdong province to help safeguard passengers during the Spring Festival travel rush.
Yu Yang, a police officer at the station, said the human officers' workload has been heavy in recent days as transportation volume before the biggest holiday of the year is extreme, and these robots can help relieve the workload. The station's data shows some 776,000 passengers have departed from the station over the last six days.
Based on facial recognition technology, the robocops can sweep through the station to search for suspects among a large flow of people and report to a command center once discovered.
Five of them are even equipped with stun guns.
If anyone is smoking at the station, police robots will also find and try to stop him, or her, through persuasion and warnings.
Users can also get in touch with a human officer directly through these robots.
Meanwhile, they can provide other simple services for travelers such as checking ticket information, destination weather, tourist sights and giving basic directions. Users can interact with them through voice command or touch their "screen face".
Passengers at the station were very excited to try out the robocops. "I just asked the robot about my train's latest information and some tourism sights in Guangzhou," said Qin Wenbin, a passenger waiting for his train to the provincial capital, adding he enjoys the human-robot interaction.
Some robots can also dance as well as play songs and videos. But sometimes they may get stuck mid caper or react slowly. Shenzhen police said this team of police robots is still undergoing a test trial phase.
An Guodong, market manager of Hunan Wanwei Intelligent Robot Technology Co Ltd, one of the suppliers of the robocop team, said his company has programmed more than 300 railway station-related questions into their robot named AnBot, in addition to other functions.