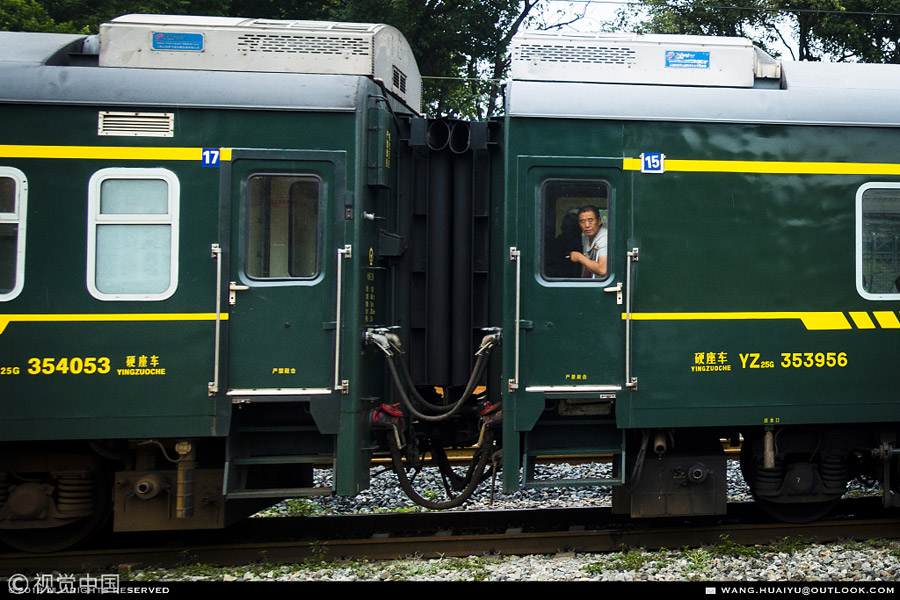 A smokers on a train in Chongqing on July 6, 2018. [Photo/VCG]
Experts called for an outright ban on smoking throughout China's railway network, after air quality inspections found dangerous levels of harmful pollutants on slow trains. Most slow trains currently allow tobacco use in designated areas.
Researchers led by the Chinese Association of Tobacco Control examined four slow trains in October. Three of the trains had set up designated smoking areas in connecting areas between carriages, and one had banned tobacco use.
Results released on Thursday showed the concentration of PM2.5 in carriages of trains where passengers can smoke exceed 500 micrograms per cubic meter.
Whenever the average concentration of PM2.5 - airborne particles 2.5 microns in diameter or smaller - is higher than 150 mcg/cubic m, the air is considered hazardous to human health, according to the Beijing Environmental Monitoring Center.
Air is even more toxic in the areas between carriages where smokers gather. Peak PM2.5 concentrations reached more than 1,000 mcg/cubic m, the research found.
By contrast, the range of PM2.5 measured in the smoke-free slow train was 19 to 156 mcg/cubic m.
"If we enforce a ban on tobacco in all slow trains, the air quality in the trains will be the same as that of the outdoor space," said Li Enze, deputy head of the association's legal affairs branch.
He added that cigarette fumes can easily seep through carriages and spread through a train, thereby posing health risks to a large number of passengers on board.
Cui Xiaobo, deputy director of the Beijing Tobacco Control Association, said secondhand smoke is likely to cause life-threatening, acute illnesses.
"A lot of emergency medical requests occurring on trains are linked to vulnerable groups, including the elderly, children, pregnant women and those with chronic diseases who breathe in smoke," he said. "Riding on slow trains for hours can bring alarming damage to a person's health."
The researchers also interviewed 94 passengers on the four trains, and found that 77 of them would applaud a complete ban on smoking on slow trains. Twelve male smokers were against the proposal. The remaining five people didn't give a definite answer but contended that they would comply with a no-smoking rule.
China's high-speed rail networks all prohibit smoking, but the ban does not apply to slow trains, despite years of appeals from tobacco control experts. Passengers on slow trains are allowed to smoke in designated areas, often the connecting areas between carriages.
In June, a Beijing court ruled in favor of a female passenger, surnamed Li, who sued the Harbin Railway Bureau for setting up smoking areas and ashtrays on a slow train she rode in 2017.
The bureau was ordered to eliminate all smoking facilities on the train within 30 days of the ruling. The train was included in the October research as the smoke-free sample. But other trains run by the bureau continue to allow smoking.
Last year, China saw 3.37 billion railway trips, with about 60 percent of those taking place on smoke-free, high-speed lines.
Sporadic media reports of violators pop up on occasion, however. For example, railway police in Wuhan, Hubei province, said on Wednesday that a man surnamed Zhang was detained for obstructing police when he was found smoking in the restroom of a high-speed train. Zhang attacked an officer, the police said.