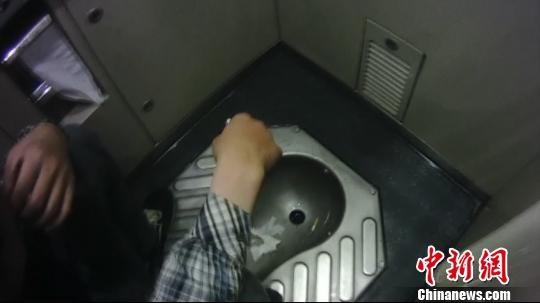 Photo shows Zhang smoking in the toilet of a high-speed train. [Photo/Chinanews.com]
A man was arrested for obstructing police when he was found smoking on a high-speed train, railway police in Wuhan announced on Wednesday.
Zhang, 38, smoked in a bathroom on a high-speed train from Shiyan to Wuhan in Hubei province on Jan 5, triggering the smoke alert and forcing the train to slow down. Train attendants asked him to stop. He threw the cigarette into the toilet and kept on abusing the train attendants.
When the train stopped at Gucheng station, Zhang abused and grabbed police officers who handled the incident. Zhang was taken to the local police station where he jumped to slap a police officer in the face and attacked him.
The case is under further investigation.