have long been an advocate of parenting education, sex education, and life education. But I see parenting education and sex education as part of life education, and life education as part of general education. When the government decided to make Liberal Studies a mandatory course in the Diploma of Secondary Education, I had held high hopes that the first of the six modules, Personal Development and Interpersonal Relationships, would serve the purpose. But, alas, my hopes had fallen flat.
I had brought the subject to people in the know on several informal occasions. I asked an official whether life education subjects have ever been examined in the DSE Liberal Studies examination. I was offered an example, namely, a question on factors behind young people smoking. I was later also referred to a question on the comparison of happiness in Singapore and that in Hong Kong. On another occasion, I asked a veteran instructor who teaches Liberal Studies whether questions on making wise decisions in life had been asked. He looked puzzled, saying what is a wise decision is not always so clear. I then offered an example: If a young person was upset over his girlfriend breaking up with him, and then wanted to hurt the girl, the girl's new boyfriend, or himself, what he wanted to do would certainly be unwise, because that would make everybody worse off. I went on to give another example. If one has suffered a loss for wrongly trusting a stranger and could not recover his loss after reporting to the police, grieving over it through many sleepless nights would be adding additional losses on top of what has been lost. Another example: If one bursts into a fury even with good cause, but because one cannot control one's emotions and does something silly, one may commit a serious crime and regret it for life. He seemed enlightened.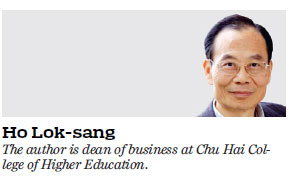 At both Lingnan University and Chu Hai College of Higher Education I have been offering a course on "Understanding Life and Happiness". The objective of the course is to enlighten our youngsters on how to make the most of their lives, learning from mistakes, limiting losses, and staying away from troubles. But the kind of questions asked in DSE Liberal Studies, such as what are the factors behind young people smoking and comparing quality of life between two cities is more like analyzing social phenomena than about personal development. They will not arouse critical thinking about choosing between different life paths. So far there has not been much attention paid to personal development as such in the Liberal Studies curriculum.
Against this background, I am delighted to learn that the Education Commission is launching a "Happy Children Movement" that is expected to last for at least three years. Parenting education courses will be offered for parents and guardians. It is hoped that parents will learn not to put too many pressures on children, and rather to learn the importance of spending quality time with their children and interacting with them in a harmonious setting.
Mr Lui Tim-leung, chairman of the Education Commission, hopes that the Happy Children Movement will turn the prevailing emphasis on "winning at the starting line" and on grades around, so that parents instead will put their focus on personal growth and happy growing up. Mr Lui says the proposed parenting courses will not be compulsory, but will be recommended to all those who look after children at home, including grandparents.
To me, parenting should be learned early and at school. School children, of course, are not yet parents, but eventually many of them will be. Besides, learning to be good parents will motivate children to put themselves in the shoes of their parents. This is important for them to appreciate the perspectives of their parents better, and will help close the schism between parents and children, which is known to intensify during adolescence. The fact is: When children get addicted to online games or social media, the last thing they would think about is the worries of their parents. Changing their roles to those of their parents will offer a completely different perspective.
Parenting skills have to be acquired through learning. Some people learn them the hard way; many never learn. These days, psychologists have a wealth of knowledge about child development and about skills for raising children. Parenting skills can be taught.
Unfortunately, few schools anywhere have introduced such content in the curriculum. The place that came close is Taiwan, which passed a Family Education Ordinance in 2003 that requires schools to offer at least four hours of family-education-related activities per year. But this is still a far cry from what is necessary to turn the culture of emphasis on academics and de-emphasis on personal development around.
The Education Commission's latest initiative is a good start. But I would still like to bring parenting education to the school curriculum, and I want it to be included in Liberal Studies.